On the western coast of Estonia, you will find a charming seaside town called Haapsalu with historical remains that dates back to the 13th century. The town has for many years been famous for their recreational spas, but you will also find plenty of great eateries and cafés in the area. One of them is the casual yet ambitious restaurant Rado, with a daily changing menu, head chef Radoslav Mitro and his partner and restaurant manager Triinu Tapper create phenomenal dishes that focuses on the best Estonian produce of the season. Some of them are quite funky and interesting but something they all have in common is that they are predominantly sourced from local farmers and hunters that they know personally.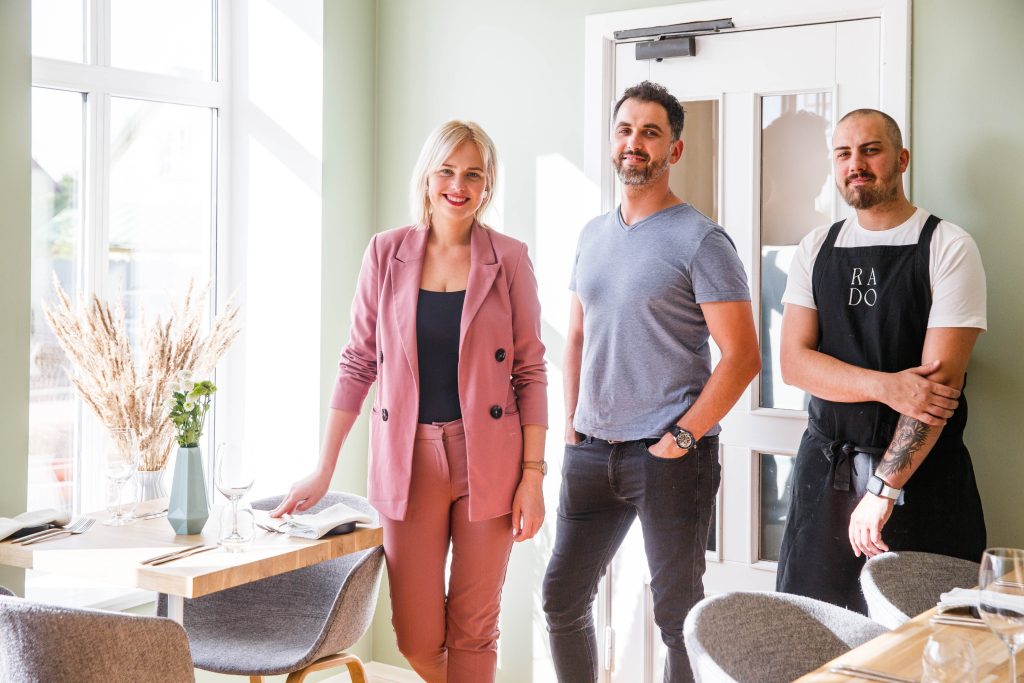 Rado is originally from Slovakia, and you can expect an innovative mix of delicious Estonian and Slavic cuisine combinations in a beautiful modern presentation.
When entering Rado, you can expect to be greeted by one of the widest and most welcoming smiles you have seen in a long time. Triinu Tapper, the restaurant manager, started to dream about running her own restaurant when she was living in New Zealand while working in a bar. During the pandemic in 2020, the restaurant Ribe in Tallinn, where Triinu and Rado worked, was forced to close. However, they had fallen in love with the location in the old town and decided to remodel the entire place and launch a new restaurant of their own. This is how Rado started and still operates in Tallinn. One year later in June 2021, they opened the sister restaurant in Haapsalu. Definitely two exciting new additions to the vibrant Estonian gastronomy scene.
This sunny lunch in Haapsalu, we were treated with a bunch of great dishes that both showcased the vast amount of quality produce from the region and the culinary philosophy of head chef Radoslav. A few highlights being the braised lamb lungs in sour cream served with jus and herb oil and an amazing deer, hunted just a few kilometres away from the restaurant, served with sautéed chanterelles, lingonberries and potato purée. Rustic elegance in a bright and modern setting that really emphasises simplicity and affordable quality.