Matthias Diether has created a gastronomic oasis in Port Noblesser in Tallinn. At 180 Degrees Restaurant, he offers international cuisine, containing everything from local, hand-picked ingredients to exclusive products such as caviar and truffles.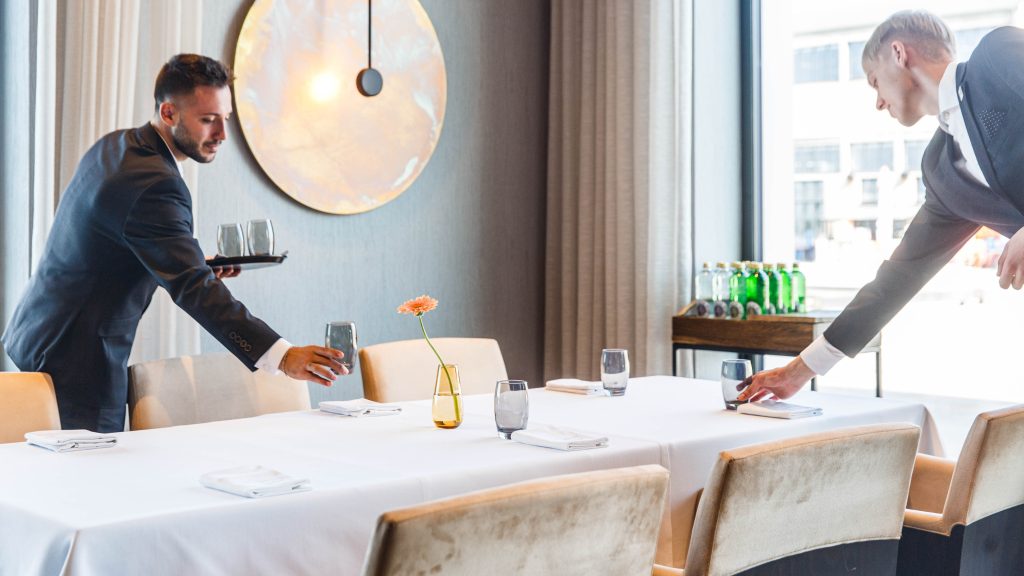 180 Degrees by Matthias Diether is located in the modernist district of Port Noblesser and offers stunning views of the Baltic Sea. The clean lines of the exterior façade contrast nicely with the soft, organically shaped furniture in the large lounge where the evening's guests have their first snacks. For restaurateur Matthias Diether, it was important to have a lounge adjacent to the restaurant where guests can relax and get in the mood before moving on to the dining room for dinner. One of the first snacks served is the 180 praline, where dark chocolate is filled with foie gras and Piedmontese hazelnuts. A divine mouthful that goes down well with a glass of champagne. When it's time to move to the restaurant, guests are welcomed by an open U-shaped kitchen. There is feverish activity here all evening, and in the kitchen bar there is also room for a few guests who can view the kitchen team's work from the first floor. The windows facing the sea are 180 degrees and the kitchen is positioned at 180 degrees as well. Hence the name 180 degrees, says Matthias Diether, who has previously worked and run everything from Michelin star restaurants in Berlin and grand dining rooms in Dubai, to rural restaurants in Hamburg and Scotland. What attracted Matthias Diether to Estonia was the opportunity to leave Berlin to explore a completely different world. He had grown tired of life in the German capital when he received a call from the owner of one of Estonia's most prestigious mansions, Pädaste Manor, and his curiosity was awakened.
Matthias Diether still focuses on many of the raw materials that nature provides. In his opinion berries, fruits and herbs have a more intense taste in Estonia than in many other places he has been. He works with a living menu; he has no signature dishes, except for the praline with foie gras and hazelnuts that are served as a snack. Otherwise, he is challenged to create a menu according to the season, where no two dishes are equal to the other. Examples of dishes are hamachi with consommé of lobster decorated with lingonberries, brandade made from fermented potatoes and dashi borsch, served with a crisp and topped with rillette made of sturgeon, and kaluga caviar. At 180 Degrees, the cooking takes place at the highest level and contains both local and exclusive international ingredients, such as Perigord truffles, French cheeses and caviar from China. It is elegant, flamboyant and delicious. Diether is inspired by different parts of the world. For example, he loves Asian food, and the umami dimension, yet the food in Asia is not comparable to French cuisine -both are wonderful but very different.
When Matthias Diether opened 180 Degrees on August 18, 2018, the goal was to become the best Baltic restaurant, and the success came fast. Now it is among the first two Estonian restaurants to receive a MICHELIN Star. The restaurant has also topped White Guide Estonia for multiple years and the reputation of 180 Degrees by Matthias Diether attracts both national and international guests. However, the creative restaurateur does not rest on his laurels, and constantly seeks new challenges. Diether says that creating a dish is like playing the lottery; there are just so many fantastic ingredients and combinations to choose from.