In a tiny village called Kullamaa, an hour drive south west from Tallinn you will find Estonia's first mushroom farm Eesti Seenefarm. Located in an old wooden water reservoir building from the Soviet era, the couple and founders Tanel and Jaanela Azriel have found the perfect spot for mushroom cultivation.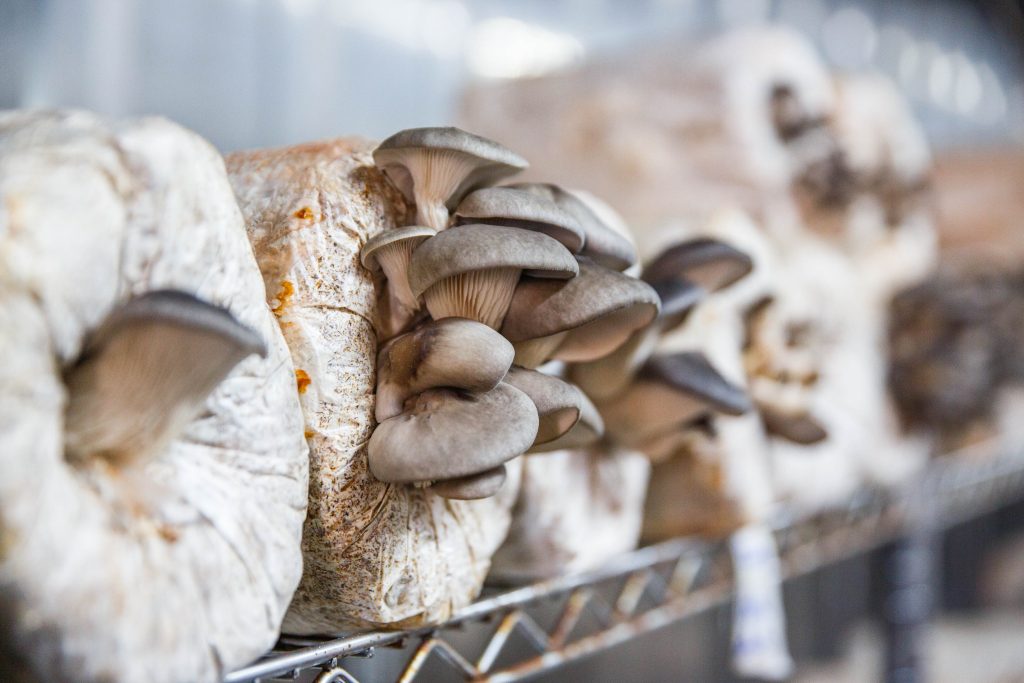 Tanel was traveling around the world and living in Australia at the time when he found his great passion for cultivating mushrooms. A few years later he decided to move to Guatemala to start the project Fungi Academy with a friend to spread their newfound knowledge and teach their farming techniques. This is where he met Jaanela, who was only supposed to visit the village for a few weeks, which then turned into months.  A year later, the by now pregnant couple decided to move back home to Estonia to find some land, settle down and create the life that they had dreamed of.
At the farm they are focusing on cultivating Oyster mushrooms which they sell to restaurants and farmers markets around Estonia. They also cultivate Lion's mane mushroom which is supposed to have a beneficial medical use. It's certainly a beautiful experience walking around the small facility with mist evaporating from different barrels, huge piles of wood, the impressive 20 metre high ceiling and all the different kinds of alluring smells. Oyster mushrooms and Lion's mane are cultivated in round plastic bags with a hole in one end. In the first step, the bags are filled with mushroom spawn mixed with sawdust and crop residues from local forest industries and farmers. Through a backdoor, Tanel shows us the way to a line of shipping containers. These have been remodeled with the right temperature, humidity and light for the next two steps: incubation and fruiting. The incubation kicks off the first phase of growth. In two weeks, the spawn has grown a full web of root like threads of mycelium and has colonised the growing substrate in a 20-24°C environment.
Tanel then takes us to the next container which feels like walking into a forest on a brisk autumn morning. It's filled with fresh oxygen, high humidity, cool temperature and limited light. In this last phase called fruiting, the growing medium is fully colonised by the spawn and the mushroom has started to fruit. The bags are stacked in shelves from floor to ceiling and the oyster mushrooms are ready in about 5 days and can be harvested about three times until the mycelium becomes exhausted.
This is a spectacular process to witness and it's very inspiring to learn about these farming techniques and see this sustainable way of local food production.