Northern taste, Southern sensibility
Some places are so pivotal and directional that they influence a whole city. Tsunft is one of those. Altering the rituals, changing the attitude, pushing the boundaries, all for the sake of progression and establishing new standards and benchmarks. Tsunft does all of this, on so many levels, and in barely detectable details.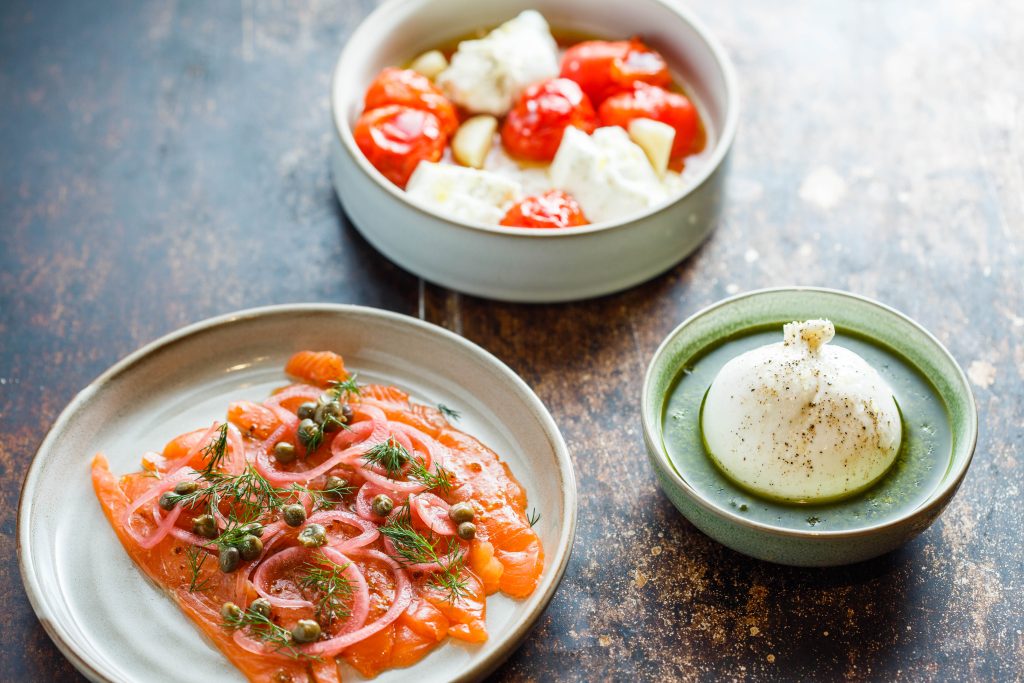 The day starts off by Tsunft serving breakfasts or brunches. Eggs being freshly scrambled, toasts from their own bakery Kotzebue perfume the air and ambiance, fresh juices and hand-roasted coffees are gently handed over to the newly awakened guests. It's buzzing, but in a calm and comforting way. The day suddenly slides into lunchtime. The kitchen is gearing up for the second wave of quality-conscious visitors. Italian pasta with local seasonal vegetables, or finest burrata, or whatever the chefs think are the best ingredients of the day. Food with a refined energy, cooked and prepared before your very eyes, as direct and immediate as possible. In Tallinn, people go all across town to hunt down these lunches. Sometimes with a glass of wine (why not! "wine not!") that lift the flavours and spirits even higher.
After the rush, after the waves, Tsunft cools down a few degrees and morphs into a shop and café. A deli even, where some of the best breads in Estonia can be bought (unless they've already sold out for the day) together with a rather quaint but truly exceptional selection of both local and predominantly Italians products and ingredients. All imported and selected and instructed by the Tsunft owners themselves. One of very few places in the world(!) to carry a range of pasta by the legendary Campanian rebel pasta maker Giovanni Assante who has revolutionised high-end pasta with his pastificcio Gerardo di Nola. That it is available in Tsunft is not luck – it's skill. Canned and tinned fish, from both Estonia's famous "food island" Saaremaa and from Italy, stand side by side on the shelves here, ready to be snapped up by foodie locals.
As evening approaches Tsunft shifts its shape once again into a glorious restaurant, where all of its efforts and talents are combined. Wine takes a central focus. Naturally so, since this is the home base for Ketri Leis, the perpetually award-winning sommelier champion who has advanced quality wine drinking in Estonia to a higher level. She also arranges tastings and her enthusiasm is contagious. Guests often let her choose her favourites for them, instead of guessing themselves. She is keenly aware of all the great small producers out there, and her curiosity constantly drives the selection forward.
The menu tends to be short, but for good reasons; to focus perfectly on the execution of each dish every night, and to deliver all-encompassing flavour combinations, which means that guests must trust the chef. And they do, and the guests come back, again and again – the ultimate goal for any restaurant anywhere. Tsunft proves that a fine dining level of quality and craftsmanship doesn't necessarily have to come with a hefty price tag, and it doesn't have to be enjoyed in a long tasting menu format in a very fancy location with expensive decor. It can also be enjoyed in a casual setting, on an unassuming corner with a stylish yet minimalistic setting. It has a relaxed but attentive attitude, intuitive and open-minded, a concept of natural occurance. Tsunft has opened its doors to Tallinn as much as possible, both literally and metaphorically.